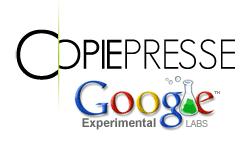 In Belgio, Google se la sta vedendo brutta (in realtà per niente). Dopo aver perso una causa lo scorso anno, adesso gli hanno chiesto (l'associazione della carta stampata) di pagare dai 30 ai 50 milioni di euro per risarcimento, avendo indicizzato e mostrato senza i relativi diritti contenuti degli associati.
"The newspaper copyright group Copiepresse said it had summoned Google to appear again before a Brussels court in September that will decide on their claim that they suffered damages of between euro32.8 million ($51.7 million) and euro49.2 million ($77.5 million).
The group called on Google to pay a provisional amount of €4 million ($6.3 million)."
link alla notizia
Entro settembre ci dovrebbe essere l'udienza definitiva.
Sono iniziative senza senso ?
Ormai si da per scontato che tutto sia indicizzato e che non si tratta altro che di pubblicità per chi ha scritto la notizia. Evidentemente in Belgio ancora non la pensano così e anche in Italia qualche editore si sfregava le mani leggendo la notizia. Oppure è semplicemente un modo per spillare qualche soldo e far capire che non bisogna esagerare ?
Post correlati: